Bihar
PM to visit flood-hit Bihar on August 26, death toll 341
Prime Minister Narendra Modi will on August 26 undertake an aerial survey of flood-affected districts of Bihar, which reported 37 more deaths on Tuesday taking the toll to 341.
While Kishanganj reported 12 deaths, seven people met their watery grave in West Champaran, five in Gopalganj, four each in Araria and Madhepura, two each in Sitamarhi and Supaul and one died in Madhubani.
State water resources department and DMD officials were a tad worried about the possibility of flood situation worsening with the India Meteorological Department forecasting light rainfall in the catchment area of the rivers in the state.
INTERNATIONAL
India welcomes U.S. President Donald Trump's new Afghanistan policy
India on Tuesday welcomed United States President Donald Trump's new policy on Afghanistan. saying his move will help target "safe havens" of terrorism in South Asia. A former diplomat said that his call for an end to Pakistan's involvement in terrorism in Afghanistan and his support for Afghan-led peace process addressed a core Indian concern.
The former diplomat said Mr. Trump had supported long-held Indian foreign policy principles of non-intervention and non-interference and ended uncertainties over the U.S.' involvement in Afghanistan.
NATIONAL
Triple talaq declared illegal by supreme court.
Triple talaq, the controversial Muslim divorce law that allows men to leave their wives immediately by uttering "talaq" (divorce) thrice, has been banned by the Supreme Court, which today called it illegal, retrograde and unworthy. Calling the practice "bad in law", a constitution bench of five judges said that triple talaq "is not integral to religious practice and violates constitutional morality".
Triple talaq is legal for Muslims according to the constitution, but several Muslim women who have been divorced, including by Skype and on WhatsApp, had challenged the 1400-year-old practice.
Gk bit – Triple Talaq
Triple talaq is the practice under which a Muslim man can divorce his wife by simply uttering "talaq" three times.It is prevalent among India's Muslim community majority of whom follow the Hanafi Islamic school of law.
This mode of divorce is not universal among Muslims across the world, as many other Islamic schools of thought prefer the divorce process to be deferred, in many cases over a period of three months.
The government has cited the example of many predominantly Muslim countries, including Pakistan, that have banned triple talaq.
The issue has attracted media attention in the past two years since
a Muslim organisation, Bharatiya Muslim Mahila Andolan (BMMA), launched a campaign to ban triple talaq and "nikah halala" – a practice where divorced women, in case they want to go back to their first husbands, have to consummate a second marriage.
All India Muslim Personal Law Board (AIMPLB), a non-governmental organisation that aims to educate Muslims on the protection and application of Islamic laws, has opposed the move to ban triple talaq and polygamy
NITI Aayog to launch "Mentor India" Campaign 
NITI Aayog will launch the Mentor India Campaign, a strategic nation building initiative to engage leaders who can guide and mentor students at more than 900 Atal Tinkering Labs, established across the country as a part of the Atal Innovation Mission.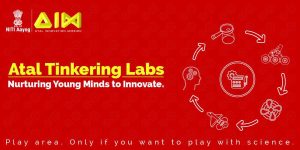 Mentor India is aimed at maximizing the impact of Atal Tinkering Labs, possibly the biggest disruption in formal education globally. The idea is to engage leaders who will nurture and guide students in the Atal Tinkering Labs. These labs are non-prescriptive by nature, and mentors are expected to be enablers rather than instructors.
Atal Tinkering Labs are dedicated works spaces where students from Class 6th to Class 12th learn innovation skills and develop ideas that will go on to transform India. The labs are powered to acquaint students with state-of-the-art equipment such as 3D printers, robotics & electronics development tools, Internet of things & sensors etc.
NITI Aayog's Atal Innovation Mission is among one of the flagship programs of the Government of India to promote innovation and entrepreneurship in the country to set up the Atal Tinkering Labs across the country. The Mission has / is in the process of setting up 900+ such labs across India and aims to have 2,000 such labs by end of 2017.
National Sports Awards 2017
The Union Government announced National Sports Awards every year to recognize and reward excellence in sports in India.
These awards include Rajiv Gandhi Khel Ratna Award, Dronacharya Award, Arjuna Award, Dhyan Chand Award, Maulana Abul Kalam Azad (MAKA) Trophy.
The awardees will receive their awards from the President of India at a specially organized function at the Rashtrapati Bhawan on August 29.
The awards and the winners are
Rajiv Gandhi Khel Ratna 2017

The Rajiv Gandhi Khel Ratna Award 2017 are won by

Shri Devendra – Para Athlete

Shri Sardar Singh – Hockey
Dronacharya Awards 2017

The Dronacharya Awards 2017 are won by

Late Dr. R. Gandhi – Athletics

Mr. Heera Nand Kataria – Kabaddi

Mr. G.S.S.V. Prasad – Badminton (Lifetime) 

Mr. Brij Bhushan Mohanty – Boxing (Lifetime)

Mr. P.A. Raphel – Hockey (Lifetime) 

Mr. Sanjoy Chakraverthy – Shooting (Lifetime) 

Mr. Roshan Lal – Wrestling (Lifetime)

3. Arjuna Awards 2017

The Arjuna Awards 2017 are  won by

Ms. V.J. Surekha –  Archery

Ms. Khushbir Kaur – Athletics

Mr. Arokia Rajiv – Athletics

Ms. Prasanthi Singh – Basketball

Sub. LaishramDebendro Singh – Boxing

Mr. CheteshwarPujara – Cricket

Ms. Harmanpreet Kaur – Cricket

Ms. OinamBembem Devi – Football

Mr. S.S.P. Chawrasia – Golf

Mr. S.V. Sunil – Hockey

Mr. Jasvir Singh – Kabaddi

Mr. P. N. Prakash – Shooting

Mr. A. Amalraj – Table Tennis

Mr. SakethMyneni – Tennis

Mr. SatyawartKadian – Wrestling

Mr. Mariyappan – Para-Athlete

Mr. Varun Singh Bhati – Para-Athlete.

4.  Dhyan Chand Award

The Dhyan Chand Award 2017 are won by

Mr. Bhupender Singh  – Athletics

Mr. Syed Shahid Hakim – Football

Ms. Sumarai Tete – Hockey.
BPCS Notes brings Prelims and Mains programs for BPCS Prelims and BPCS Mains Exam preparation. Various Programs initiated by BPCS Notes are as follows:-
For any doubt, Just leave us a Chat or
Fill us a querry
––