BIHAR
Minister: 100 BPO centres in Bihar soon
Union law and information technology (IT) minister Ravi Shankar Prasad said 100 new business process outsourcing (BPO) centres would be opened at 100 common service centres (CSCs) already operational in the state soon.
The minister, who launched the 10-day Dr B R Ambedkar birth anniversary celebrations at a city hotel, said a digital village would be opened in every district. "The government will also launch a special digital training programme for scheduled caste (SC) and scheduled tribe.
100 new BPOs would be opened at CSCs, especially in rural areas, under the Centre's PM Gram Digital Saksharta Abhiyan (PMGDISHA) programme.
12 crore people have already been made digitally literate in the country under PMGDISHA programme against the target of 6 crore people. The trained people include 23 lakh SCs and 1.5 lakh STs. "In Bihar, the number digitally trained people has touched 8.02 lakh, including 2 lakh from SC and ST groups. The Centre is implementing the Digital India programme to fulfil the dream and vision of Ambedkar.
INTERNATIONAL
·        Indo-ASEAN ties have entered 25 years of dialogue
The countries around the South China Sea had made a number of attempts to form an intergovernmental platform where countries around the region could come together on principles of Pan-Asianinsm addressing common goals of security, economy and strategic interests.One predominant driving force behind this longing was the fear of communism and a antagonist china, there had been various instances in the past when China had border disputes with a number of current ASEAN member countries.
It was this fear that saw the formation of SEATO or Southeast Asia Treaty Organization in early September 1954 through the Manila pact, where the motive was to form a strong anti-communist alliance to contain communist powers like China.
Though SEATO had successfully established itself as a formal institution by 1955 yet it failed at various instances to deliver its purpose and was ultimately dissolved in the late 70's.
Apart from SEATO, another significant attempt of uniting under the principles of Pan-Asianism can be seen in the formation of Association of Southeast Asia (ASA) during the early 60's and is termed as a predecessor of ASEAN. Successively ASEAN was formally conceived on 8th August 1967 with five countries from the region signing a pact in Bangkok namely Philippines, Malaysia, Singapore, Thailand and Indonesia.
NATIONAL
Delhi Launches 'Mission Buniyaad' To Improve Students' Learning Skills
The Delhi government has launched the "Mission Buniyaad" scheme to improve learning levels of children from classes 3 to 9.
Primary education falls within the ambit of the Municipal Corporations of Delhi (MCDs) while the Delhi government is supposed to offer education from classes 6 to 12.
Under the programme which will run from April to June for class 3 to 5 in MCD schools and class 6 to 9 in government schools, children will undergo a reading level assessment based on which they will be enrolled in specialised classes.
PM inaugurates Health and Wellness Centre to mark the launch of Ayushman Bharat
On the occasion of Ambedkar Jayanti, Prime Minister Narendra Modi inaugurated a Health and Wellness Centre, to mark the launch of the Union Government's ambitious Health Assurance Programme – Ayushman Bharat.
The Centre was inaugurated at Jangla Development Hub, in the aspirational district of Bijapur in Chhattisgarh.
He inaugurated a bank branch at Jangla and distributed loan sanction letters under the Mudra Scheme to select beneficiaries. He also interacted with Rural BPO employees.
India Mobile Congress 2018 to be held in New Delhi
India is going to host its second India Mobile Congress (IMC) between 25-27 October at the national capital.
It will be hosted by the Department of telecommunications and the Cellular Operators Association of India (COAI).
The first edition of IMC held in September 2017, was attended by around 2,000 delegates, 32,000 visitors, 152 speakers, 100 exhibitors and 100 start-ups.
Petroleum ministry to observe Ujjwala Diwas on April 20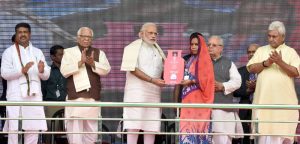 The Ministry of Petroleum and Natural Gas (MoPNG) has decided to celebrate April 20, 2018 as the Ujjwala Diwas, as a part of the as a part of the 'Gram Swaraj Abhiyan'.
Around 15000 LPG Panchayats will be organized across the country to promote learning through peer group interaction – 'Kuch seekhein, Kuch Sikhayein'.
NPCIL, NSDC partner to spur Centre's Skill India mission
Aiming to contribute towards economic and sustainable development of communities, the National Skill Development Corporation (NSDC) signed a Memorandum of Understanding (MoU) with the Nuclear Power Corporation of India Limited (NPCIL) to provide skill training to 500 youth and women at Kudankulam in Tamil Nadu.
The skill development project will be executed by NSDC through its approved training partners near Kudankulam Nuclear Power Project (KKNPP),
It is the single largest nuclear power station in India, situated in the Tirunelveli district of the southern Indian state of Tamil Nadu.
Maharashtra govt launches centre for tribal development
The Maharashtra government has set up an institution to evaluate and quantify special development budget allocations and their impact on tribal development.
Chief Minister Devendra Fadnavis launched the institution — QUEST — in Mumbai.
Known as Quality Evaluation for Sustainable Transformation centre, the state has taken the first initiative in the country to ensure development in lives of tribal people through the projects undertaken is also quantified.
·        Haryana to introduce Choice Based Credit System for undergraduate education
Haryana soon to give relax to the undergraduate students as it is going to introduce a unique way which will bring a smile on their faces that is Choice based credit system (CBCS).
The Haryana government said it has decided to introduce choice-based credit system (CBCS) and also revise the syllabus and workload in eleven subjects at the under-graduation level "in keeping with global scenario".
The subjects are economics, political science, psychology, mathematics, physics, chemistry, computer science, botany, zoology, commerce, and geography, said an official spokesperson of the higher education department.
They would review the existing syllabi in the universities of Haryana, the neighboring states as well as the model curriculum of UGC to make an assessment of the workload and evolve choice-based credit system.
BPCS Notes brings Prelims and Mains programs for BPCS Prelims and BPCS Mains Exam preparation. Various Programs initiated by BPCS Notes are as follows:-
For any doubt, Just leave us a Chat or
Fill us a querry
––