Bihar
·       CM launches software to record public queries.
Chief minister Nitish Kumaron Wednesday launched the customer management relationship(CRM) software for use at Yuva Nischay Suvidha Kendra(YNSK) call centre, which will help in linking the centre with all the departments and facilitate timely compliance with answers to the queries/inquiries/complaints raised.
The YNSK call centre had been opened on October 2 last year to attend to the queries raised by youths in relation to Bihar Student Credit Cardscheme as part of 'Saat Nishchay (seven resolves),' Mukhya Mantri Nishchay Swayam Sahayata Bhatta Yojana and skilled youth programmes.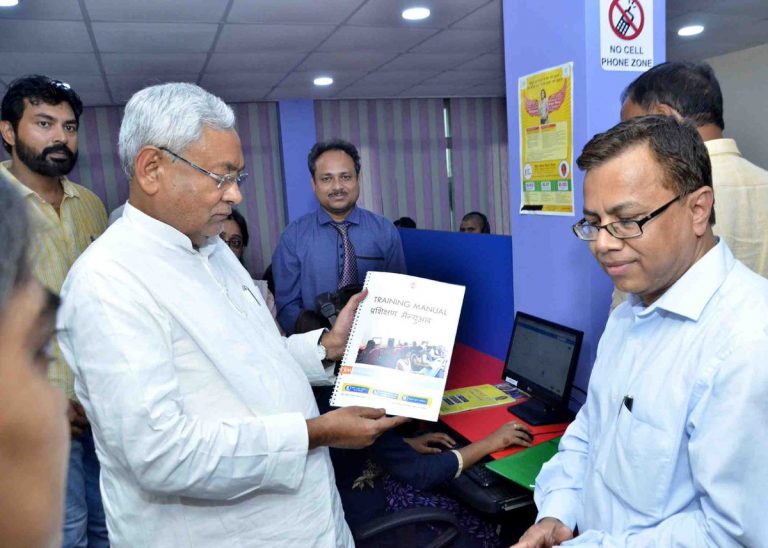 The queries and complaints would be recorded and sent to the department concerned for compliance, after which the compliance report would be forwarded to the customer in shortest possible time.
Operating manually, as many as 6.11 lakh calls had been received at the YNSK. Of them, 3,268 complaints were attended to with proper replies from the departments concerned. Implicitly, the CRM software is expected to help in quick disposal of the complaints received and recorded for reply.
INTERNATIONAL
European Commission's fine on Google.
The long arm of the European Commission has once again struck the technology world with the imposition of a €2.42 billion ($2.7 billion) fine on Google for the company's abuse of its market position.
The Commission found that Google abused its dominance in the Internet search market to give itself an unfair advantage in another market — comparison shopping services. Google's comparison shopping service disadvantaged competitors by placing them lower in its search results, systematically giving Google's own services higher placement and greater visibility, leading to more clicks. Google, which is required to pay the fine within 90 days, may appeal the decision.
Gk byte –  EU
European Union is as an economic and political partnership consisting of 28 member countries. A law made in European Parliament is applicable and binding on all Member States directly. It is a single market allowing the free movement of goods and people. The union has its own currency, the Euro, which is being used by 19 member countries. The capital of European Union is located in Brussels, Belgium.
The European Commission (EC) is an institution of the European Union, responsible for proposing legislation, implementing decisions, upholding the EU treaties and managing the day-to-day business of the EU
National
India-Thailand military exercise begins in Himachal.
A 14-day joint military training exercise Maitree 2017 between India and Thailand started in Himachal Pradesh.
The joint exercise of the Indian Army with the Royal Thailand Army commenced at Bakloh in Chamba district.
The previous edition of the exercise was held at Krabi in Thailand in 2016.
·               President approves ordinance allowing Kambala in Karnataka.
ð President Pranab Mukherjee has approved the promulgation of The Prevention of cruelty to Animals (Karnataka Amendment) Ordinance, 2017 by the Governor of Karnataka in pursuance of Article 213 of Constitution. The promulgated ordinance legalises Kambala, bullock cart races and bull runs as traditional sports involving animals and exempt them from The Prevention of Cruelty to Animals Act, 1960.
ð Kambala is the traditional slush track buffalo race that is held annually in coastal districts of Karnataka to entertain rural people of the area. Slushy/marshy paddy field track is used for Kambala. The sports season generally starts in November and lasts till March. The contest generally takes place between two pairs of buffaloes, each pair race in two seprate wet rice fields tracks, controlled by a whip-lashing farmer. In the traditional form of Kambala, buffalo racing was non-competitive and buffalo pairs ran one by one in paddy fields. Besides, there was also ritualistic approach as some agriculturists race their buffaloes as a means to thank the god for protecting their animals from disease. But in recent times, Kambala has become an organised rural sport.
·               New  regulations for teacher­ training.
ð The blueprint being framed by the National Council For Teacher Education (NCTE), promises action against errant institutions—nearly 3,000 teacher education colleges may be barred from admitting fresh students from the next academic year.
ð By January next year, NCTE will put out a ranking of the top 100 teacher training institutes.
ð While the move could create confusion, the government believes it is essential to curb the growth of poor quality institutions and bring transparency in teacher training.
ð NCTE functions under the Union human resource development (HRD) ministry. It has already collected preliminary data through affidavits and showcause notices it has served to around 12,000 institutions.
ð According to Sources, NCTE is hitting the reset on the grading system, with less emphasis on physical assets. Now, physical assets will get just 10% weightage, 20% weight will go to academic assets, 30% to teacher transactions and 40% to students' learning outcome. Currently, there is no weightage on learning outcomes for approval or accreditation of such institutions.
Gk byte – NCTE
ð The National Council for Teacher Education, in its previous status since 1973, was an advisory body for the Central and State Governments on all matters pertaining to teacher education, with its Secretariat in the Department of Teacher Education of the National Council of Educational Research and Training (NCERT).
ð Despite its commendable work in the academic fields, it could not perform essential regulatory functions, to ensure maintenance of standards in teacher education and preventing proliferation of substandard teacher education institutions. The National Policy on Education (NPE), 1986 and the Programme of Action thereunder, envisaged a National Council for Teacher Education with statutory status and necessary resources as a first step for overhauling the system of teacher education.
ð The National Council for Teacher Education as a statutory body came into existence in pursuance of the National Council for Teacher Education Act, 1993 (No. 73 of 1993) on the 17th August,1995.
ð The main objective of the NCTE is to achieve planned and coordinated development of the teacher education system throughout the country, the regulation and proper maintenance of Norms and Standards in the teacher education system and for matters connected therewith.
BPCS Notes brings Prelims and Mains programs for BPCS Prelims and BPCS Mains Exam preparation. Various Programs initiated by BPCS Notes are as follows:-
For any doubt, Just leave us a Chat or
Fill us a querry
––