BIHAR
President Kovind to launch third phase of agriculture road map on Nov 9
President Ram Nath Kovind will launch the third phase of Bihar agriculture road map (2017-22) at Bapu Hall of Samrat Ashok International Convention centre in Patna on November 9.
This would be Kovind's maiden official visit to the state after being elected President of India in July. He was Bihar governor before his nomination for the Presidential election.
The third phase includes programmes by as many as 12 departments, including agriculture, animal husbandry and power. Among other objectives, the road map is aimed at setting up an exclusive 1,500MW power network for agriculture sector to reduce the farmers' dependence on diesel generator sets for farming. The plan also includes innovative idea of integrating solar power with fisheries. The state government is also working on plan to connect villages with a population of more than 250 people through road network to provide access to wholesale markets.
It also targeted raising the irrigation capacity of the state from 82% in 2012 to 159% this year and further to 209% by 2022 broadly through 14.64 lakh private tubewells. CM Nitish Kumar wants to ensure one Bihari cuisine in every Indian's plate by then.
INTERNATIONAL
·       India Makes it to Top 100 in 'ease of doing business World Bank
India broke into the top 100 in the World Bank's Ease of Doing Business rankings, notching up the biggest improvement among all countries on the back of big gains on a number of measures.
The rise to the 100th position from 130 last year made India one of the top 10 best-improved countries and rounded off a day of good news on the economic front for the government.
The World Bank's 'Doing Business 2018is Reforming to Create Jobs' report ranks 190 countries on the basis of a combined score on 10 parameters.
India is the only large country this year to have achieved such a significant shift.
India tops list of new tuberculosis cases in 2016: WHO
India topped the list of seven countries, accounting for 64 per cent of the 10.4 million new tuberculosis (TB) cases worldwide in 2016, according to a new report by the World Health Organisation.
India was followed by Indonesia, China, Philippines, Pakistan, Nigeria and South Africa, according to a Global TB Report 2017 released by the WHO.
An estimated 1.7 million people died from TB in 2016, including nearly 400,000 people who were co-infected with HIV, recording a drop by 4 per cent as compared to 2015, the report said.
NATIONAL 
·       Bhutan King to Arrive in India for Four-Day Visit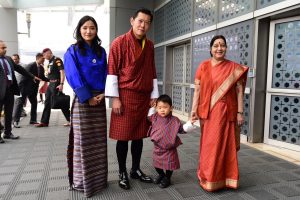 King of Bhutan, Jigme Khesar Namgyel Wangchuck has arrived in New Delhi on a four-day visit to India.
He was accompanied by his wife, Queen Gyaltsuen Jetsun Pema Wangchuck.
During the visit, the King will meet with President Ram Nath Kovind and Prime Minister Narendra Modi.
·        IAF contingent leaves for Israel to Participate in 'Ex Blue Flag-17'
A 45 member contingent of the Indian Air Force left for Israel today to participate in exercise 'Blue Flag-17'.
Blue Flag is a bi-annual multilateral exercise which aims to strengthen military cooperation amongst participating nations.
Indian Air Force is participating with the C-130J special operations aircraft along with Garud commandos.
The exercise is being conducted at Uvda Air Force Base in Israel from 02-16 Nov 17.
·       Haryana Government Announces Lifetime Pensions for 'Hindi Satyagrahis'
The state government of Haryana has announced lifetime monthly pension of Rs 10,000 for 'Hindi Satyagrahis' and those from the state who were jailed during the Emergency.
The state government also announced that it would be providing enhanced financial assistance to World War-II veterans and their widows.
Vice President M Venkaiah Naidu was the Chief Guest for the occasion.
·       Vikram Singh Appointed Private Secretary to President
Railway officer Vikram Singhwas appointed Private Secretary to President Ram Nath Kovind. Singh is a 1997 batch officer of the Indian Railway Traffic Service.
The Appointments Committee of the Cabinet has approved his appointment to the post for a period of two years.
IAS officer P C Meena was appointed Private Secretary to Minister of State for Commerce and Industry C R Chaudhary.
BPCS Notes brings Prelims and Mains programs for BPCS Prelims and BPCS Mains Exam preparation. Various Programs initiated by BPCS Notes are as follows:-
For any doubt, Just leave us a Chat or
Fill us a querry
––