Art Forms of Bihar
Registered Geographical Indications (GI) belonging to Bihar are-
MADHUBANI PAINTINGS (Registered G.I. as a Handicraft)
Madhubani painting is also known as Mithila Paintings as it is practiced in the Mithila Region of Bihar. Painting is done with fingers, twigs, brushes, nib-pens, and match-sticks using natural dye and mineral pigments. There are paintings for each occasion and festivals such as birth, marriage, holi, durga puja and other occasions. The painting was traditionally done on freshly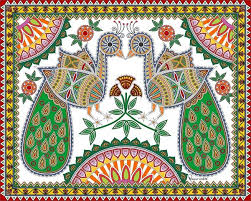 plastered mud walls and floors of huts but now they are also done on clothes, handmade paper and canvas. Madhubani paintings mostly depict the people and their association with nature, natural objects like the sun, moon and plants and the scenes and deities from the ancient epics like Mahabharata and Ramayana.
Generally no space is left empty on the canvas and the gaps are filled by paintings of flowers, animals and geometric designs.
APPLIQUE-KHATWA PATCHWORK OF BIHAR (Registered 
G.I. as a Handicraft)
Khatwa patch work is an appliqué work i.e. it is an ornamental needlework in which pieces of patch work are sewn or struck onto a larger piece to form a picture or pattern.
Khatwa is mainly used to create designer curtains, cushions, table covers, tents, canopies and other products. The designs in khatwa work include trees, flowers, animals, birds and others. In khatwa work, patches are first stitched to the base fabric and then the designs are cut to shape.
SUJINI EMBROIDERY WORK OF BIHAR(Registered G.I. as a Handicraft)
Sujini embroidery started as the distinctive embroideries done by women in Bihar from worn and used clothes. It is very popular and expressive art form now. Sujini is quilt having embroidery made in Bihar by recycling a number of worn out saris and dhotis in a simple running stitch that gives the old cloth a new structure while ornamenting it. Sujini embroidery has eventually taken the form of representing unique narrative elements of storytelling and sharing experiences through embroidery. Women often stitch their sorrows and realities on the sujini, transforming mundane clothes into testimonies of their lives and challenges
SIKKI GRASS WORK OF BIHAR (Registered G.I. as a Handicraft)
The sikki grass article are made by the women of north Bihar. Sikki is obtained from the dried stems of a succulent plant. The plant is abundantly available in Bihar. The upper portion of the stem, which contains flowers, is discarded and the remaining portion cut into small pieces and preserved for making attractive Sikki ware. It is out only once after the rains and the cut pieces are stored for use throughout the year. Sikki grass dried in red, blue, black and gold is imaginatively wrought into a variety of articles such as basket and boxes, human figures, replicas of gods and goddesses, toys, animals, birds and models of chariots and temples.
The other Crafts of Bihar are-
YAMPURI PUPPETRY:
The traditional Rod Puppetry of Bihar is known as Yampuri. Rod puppets are supported and manipulated by rods from below. These puppets are made of wood, are in one piece and have no joints. These puppet require greater dexterity.
Yampuri puppet shows are also known as Baikunth Darshan Shows. The show is conducted in Hindi and Bhojpuri. This puppet show intends to address morality by instilling the knowledge of heaven and hell in the spectators. The show starts with a view of Yampuri (House of Death) with the main characters Yamraj, Yamdoot and Chitragupt. Dead people come one by one and are marched in front of Yamraj They are sent to heaven and hell on the basis of their deeds during their life.
Tikuli Work:
Tikuli is a form of craft made from broken glass. The craftsmen first melt the broken glass and then give it shape and design.
Bangle Making
The best works of bangle making can be seen in the city of Muzaffarpur which is considered to be the center for cottage industries. Bangles are an inseparable part of Indian customs and an integral part of make up kit of Indian women. The raw material is for bangle works is obtained from the forest nearby. The artisans use light fire to craft the delicate glasses into circular shape. The artisans go by the market demand and their imagination to give them the most fashionable and contemporary designs. One can buy them from many stores or directly from the homes of the artisans.
Stone Work
In its peak during the Mauryan period, stone and architecture works became the symbol of the dynasty. One can see the best of that period in cities like Gaya, Nalanda, and Patna. Apart from monasteries and Stupas, magnificent statues of Lord Buddha were created. Today, the most important place for stone works is Patharkatti in Gaya district. It has plenty of blue black pot stone which are cheap and are used for making statues,
images and household articles like the pestle and grinders. It is also among the places in India where architecture works of fountains and tables are done.
Wood Inlay:
One of Bihar's ancient industries wood inlays continues to be done with different materials, metal, ivory and stag-horn. Artists create decorative pieces like wall hangings, table tops, trays, and a number of utility articles with inlay work. One can see beautiful pieces of trays, boxes and other articles for household use are produced using this craft. The designs are colourful and geometrical.
Lacquerware:
In Bihar lac has been used for making beautiful items like boxes and bangles etc since ages. Sindurdan the vermilion container given in marriage is one of such decorative piece made by laheris community. The boxes are beautifully decorated with the motifs of fish, chakra and peacock. Traditionally the bride's parents present her a round conical box, with a nose ring at the marriage with the symbols of fertility and longevity engraved on its red body.
Printed Textiles:
Bihar has made its name in textile printing which is done on cotton, wool and silk.Some districts and towns for example Bhagalpur, Bihar Sharif, Darbhanga, Saran and Patna are well known for this craft. In Gaya, it is common to find the religious textiles with the names or footprints of deities printed all over in ochre or red. The chunris of Bihar deserve special mention. Beautiful designs are printed in these chunris which are traditional as well as floral and animal forms. At Sursand in North Bihar only mica (khari) printing is done with bright colours are used extensively
Other handicrafts:
Bihar also has tradition of leather craft, tikuli making and papier –mache art .These arts are being recognized all over the world and showcased in international and national exhibitions. Beautiful objects are crafted in traditional and floral designs with bright colours.Religious scenes and gods and goddesses are also painted especially on papier-mache articles.
Pottery Works
Pottery is made on clay. Bihar had a rich history of clay pottery work. Since the time of Mauryan and Gupta this art has been in practice in Bihar. The archeological excavations at places like Nalanda and Rajgir had confirmed the existence of this artistic craft in Bihar. Beautiful earthen utensils and tiles are made by potters of Bihar. They have the abilities and skill to do artistic and beautiful paintings on earthen pots. Patna is very famous for such work. Patna is also famous for making earthen statutes of various gods and goddess.
Bamboo Work
Bamboo work has been remained a culture of Bihar throughout the ages and time. Right form the pre-historic time forest dwelling tribes are experts in bamboo and cane work. They used to make many utility items like baskets, household wares, woven mats, furniture and cane products like cane furniture and other decorative objects. By utilizing their skill and techniques they turned these lifeless bamboo and cane into living object which are of great value in every day life.
BPCS Notes brings Prelims and Mains programs for BPCS Prelims and BPCS Mains Exam preparation. Various Programs initiated by BPCS Notes are as follows:-
For any doubt, Just leave us a Chat or
Fill us a querry
––